The Big Picture
« The Zone of Interest, » adapted from Martin Amis' novel, is a haunting portrayal of Nazi commandant Rudolf Höss and his wife during the Holocaust.
Shooting the film using hidden cameras created a unique and uninterrupted experience for the actors, allowing for natural performances.
Christian Friedel shares his take on the powerful final scene.
[The following contains spoilers for The Zone of Interest.]On its somber journey through the festival circuit, Jonathan Glazer's (Under the Skin) historical drama The Zone of Interest was screened at this year's Toronto International Film Festival. To discuss this heavy project, co-star Christian Friedel (13 Minutes) stopped by Drumpe's studio at the Cinema Center by MARBL to sit down with Editor-in-chief Steve Weintraub.
Adapted from the 2014 novel by author Martin Amis, The Zone of Interest is a quietly haunting portrayal of real-life Nazi commandant Rudolf Höss (Friedel) and his wife Hedwig (Sandra Hüller). Taking place during the Holocaust, Glazer provides a slice of nightmarish life as Höss and his wife live out their day-to-day, striving to build a dream home just on the outskirts of the German concentration camp, Auschwitz. The horror and depravity of the camp serve as the white noise to Hedwig's get-togethers and Rudolf's preoccupation with his own daily struggles.
During their one-on-one, Friedel talks about his working history with co-star Hüller, who premiered two films at the festival this year—The Zone of Interest and Anatomy of a Fall—and their conversations about scenes and how this dynamic benefited from their previous collaborations. The actor discusses reading Glazer's script for the first time, the talks he had with the filmmaker, and how the pandemic may have changed the film for the better. He also shares the intensity of the role, the unique way Glazer shot what Friedel calls a "masterpiece," and they tread into spoiler territory to give his take on that chilling ending. The spoiler talk comes at the very end of the interview, so you can stop reading before that section. You can check out the full interview in the video above or read the transcript below.
Drumpe: What was it like reading the script for this for the first time? There's so much that happens off-camera and the use of sound, and I'm just curious what it's like reading the script for the first time and seeing what Jonathan was going for.
CHRISTIAN FRIEDEL: Reading the script for the first time was amazing. It was a great script, and in the script, all the noises you hear are written down in the script. So, not exactly everything, but you have a vision. If you read the script, you have a vision of what John wants to do. For me, coming into this project was funny because I had to do a selfie to describe myself and why I'm becoming an actor without knowing the script, without knowing the potential role, only knowing it's a new project of Jonathan Glazer. I grew up with Jonathan's work without knowing that the director's name was Jonathan Glazer, but I know the music videos, and some of the commercials he did.
I did this selfie, and then I met John for the first time in a pub in London together with his longtime friend Jim Wilson, and then he shares with me his vision and his thoughts. He shares with me what could be the potential role in it, and photos and his investigation. Then I read the script for the first time, and I was really impressed because it reminds me of the script when I read The White Ribbon. I played the school teacher in White Ribbon, and when I read the script from The White Ribbon, there were no questions, and here, too. But he changed the script. Because of the COVID situation, we had to postpone the whole project for one year, and then we had a lot of conversations about the script knowing, "Okay, Sandra [Hüller] and me will be this couple, and then what could be a good situation? What is not a good situation?" Then he changed, with us, the script.
Can I ask, do you think that COVID made the project even better?
FRIEDEL: I think so. For me personally, because I had to learn horseback riding, because it was important for the part, and I had one year more, and that was great. [Laughs] And to have this preparation and to know this will be a very intense shooting because the set, the garden, the set design is amazing from Chris Oddy, and shooting with 10 cameras simultaneously and so on, and to prepare for this character for this project. For me, it was even better that it was postponed for one year.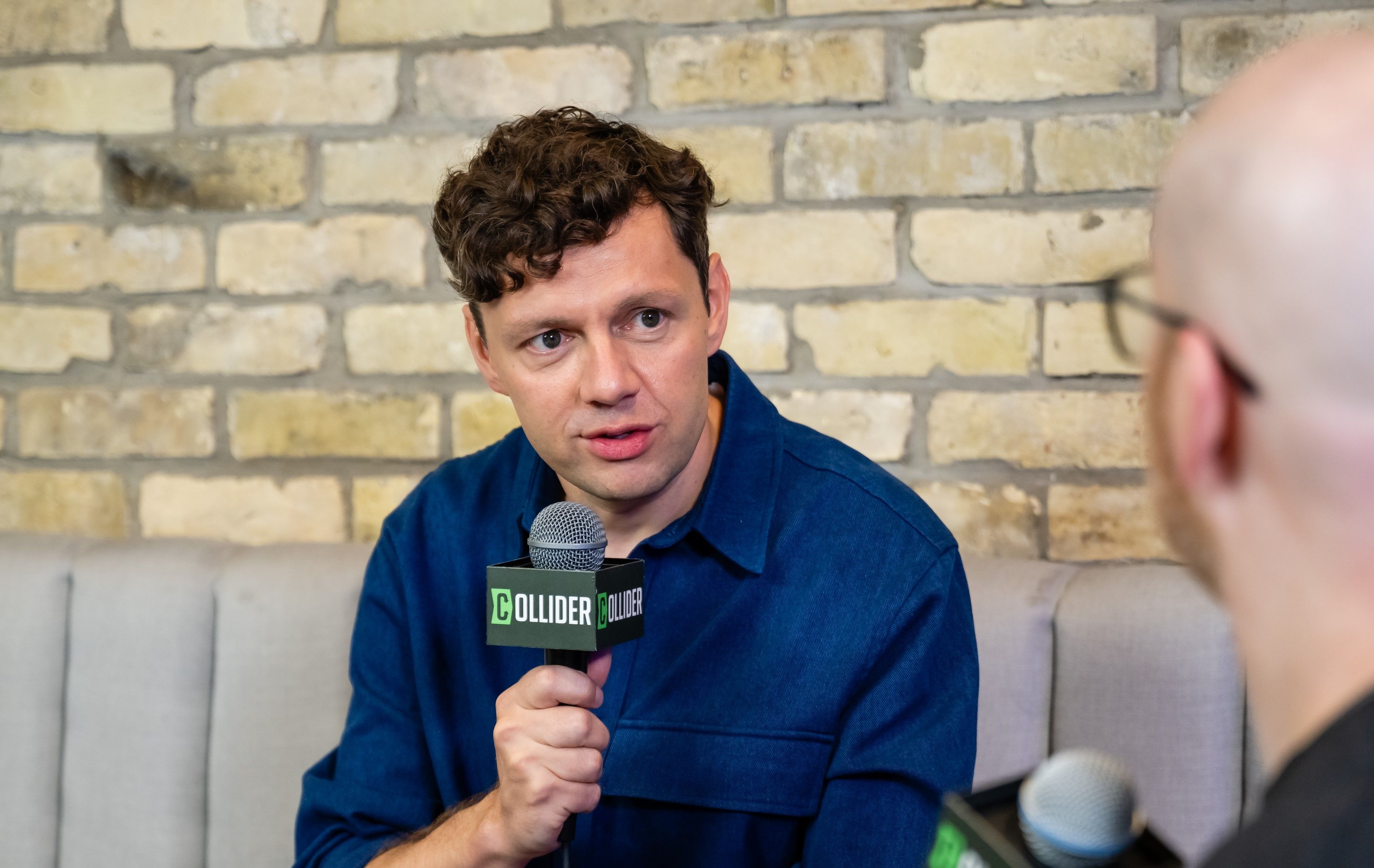 You mentioned just now about the cameras and I wanted to get specific about that. It was a very unusual way that you shot the film. Can you let people know about that unusual way and what was it like as an actor when you're in a set, but there's nobody really around, it's just the actors?
FRIEDEL: That was a luxury situation without technical interruptions or something. I hate this in the normal shooting process because you are in a moment, in a feeling, and then you have to interrupt and stop this and then come back. Here we had the luxury situation. We had a lot of time, and the cameras were hidden in the house, in the garden, and it was allowed to play in the house and at the same time in the garden. Sometimes we shot scenes simultaneously – I was in a room with the commandant, Sandra was in a room with her friends, and I hear the voice of the other scene. That was crazy. It was great, and it was helpful to find the naturality for the situations and for our characters, too. Even outside, we had the writing scene with my son. It was a great area—I think 2 kilometers—and there were 10 cameras hidden, and we had to trot and gallop and it was amazing. It feels real in this moment, it was not acting. So that was really helpful.
I'm fascinated by how so many different directors work in different ways and yet they all work. There's no right method to making a movie.
FRIEDEL: Absolutely. And I think here it was important for John, the observing thing. We observe the family, we're looking through the window to the family, and this system was really helpful for this because we don't see the characters in a big shot, we don't follow them, we observe them. That was great because we don't know what angle will be the final angle or something, and it was great. I don't care, that was really, really great to know I'm not an actor who's looking into the money tour after a shoot, and, "Oh, I have to look sexy or something." [Laughs] That's not important for me. This is the director's decision, and here it was great for us. We don't know which angle, and I think it was a luxury and a helpful situation for us.
I definitely want to talk about what it was like for you to watch the film for the first time because he does things in the final version—I don't know if it was in the script—but the way that it starts is an unusual beginning. There are other unusual things, and his exceptional use of sound and what's off-screen, and using the audience's imagination is a very powerful tool in this film.
FRIEDEL: For me, I was really surprised when I saw the movie for the first time, and I was really thrilled and impressed. At the same time, it was uncomfortable for me to watch, too. We haven't heard the noises or the sounds, we haven't seen the camp. We shot the first part of the movie, the summer part, very close to the original camp and very close to the original house, his house. But I think there's a second movie, if you close your eyes you see a different movie, and this is really amazing. I was really impressed about that and really overwhelmed that it works. If you're shooting a movie with this idea, with this vision, you don't know if it works, but to realize it works, that was really great.
Sandra and me, we were in a little, small cinema in Leipzig, her hometown, and with her dog, we were together. The dog is the dog in the movie. It was a premiere for the dog to see the movie for the first time. [Laughs] And especially, you said the beginning or the end – in the script, the beginning and the end were different than what we see in the movie. I think after the cleaning woman comes back to Rudolf's house and he's getting down the stairs, it's a genius cut, I would say. Sandra and me, we said, "Wow," when we saw the movie for the first time, and this moment especially. We felt like, "Okay, this is a really unique movie."
Oh, for sure. I definitely have to talk to you about working with Sandra because she is so fantastic in the movie and is so disturbed, such an evil person. What was it like actually collaborating with her because she's having a very good year also?
FRIEDEL: [Laughs] She's having a great year, and I'm so happy for her. Give her all the awards!
She's in both films, [The Zone of Interest and Anatomy of a Fall.]
FRIEDEL: Both films. What a year. She's an incredible and inspiring actress for me and an incredible human being, too. We worked together for the first time years ago in Jessica Hausner's movie, Amour Fou, and I played Heinrich von Kleist, and she was my cousin. We had two very, very funny scenes. We've had, for the first time, there's a connection between us, and we're becoming friends, and it was very helpful for especially this movie and making this movie. I think the key moments for me were the conversations with her and with John. We had a lot of conversations, and that was really helpful to create the characters and to know that, yes, they do evil things, but they are normal human beings, and I think this is the most important thing. If you watch the movie, you realize, "Okay, human beings do incredibly horrible things to other human beings," and I think this is, for me, the main message.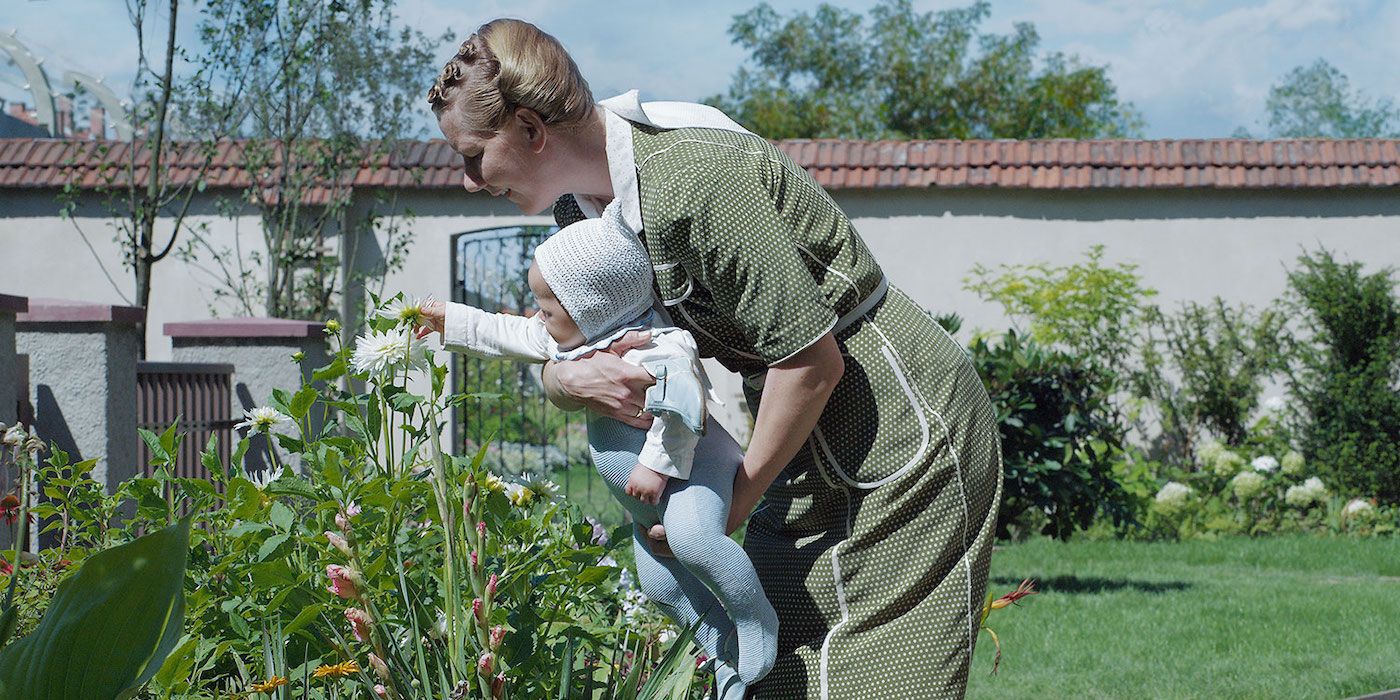 Every actor I speak to says making a movie is like a marathon, so what was it like inhabiting this character and playing this for a period of time for you?
FRIEDEL: It was really intense. I had this beautiful haircut for two years [laughs], and to Christmas. My family was really thankful. No, for me, it was really intense because there are things in my subconscious I have to deal with. And sometimes I had the feeling, it's an easy situation, it's not difficult to do this now, to have a birthday party or have a dinner with the family or something. But making this movie, creating this character with this historical context, the responsibility towards the victims, all these things, and now watching this movie and being overwhelmed, there's a lot of things. It was a really intense, sometimes difficult journey for me, but I'm really grateful and really proud to be a part of this masterpiece.
SPOILERS BELOW
I wanna ask you one question, but I want to look at the camera and say, "This is a spoiler, so stop watching now if you have not seen the movie because I'm asking something specifically about the film. Do not watch this part unless you have seen the movie."
FRIEDEL: Rudolf has his death.
Did Jonathan tell you that when he is throwing up, why, or did you decide for yourself why? Because you can interpret it a few different ways, and I'm just curious about your take on it.
FRIEDEL: For me personally, we talked a lot about this, and I was really afraid to do this scene because I hate to throw up. [Laughs] I think the last time I was throwing up…it's been 20 years or 25 years ago. And I realized, "Okay, John likes method acting and to find the reality," and I was really afraid of it. We had a lot of conversations. There is an inspiration for this scene, for every scene, and he had some notes and memories of people who worked in the Höss house. For me, this scene is a battle, the body against the mind, but he doesn't realize his guilt. He's thinking, "Okay, I wash my hands," but the blood stays on his hands. I think you see a battle, but he doesn't realize what's going on. This is my interpretation, but I hope that the people have different interpretations. Even if you watch the end of the movie and you see this master cut going into the future, coming back in the past, and, "What's going on? What are his thoughts?" We don't know it.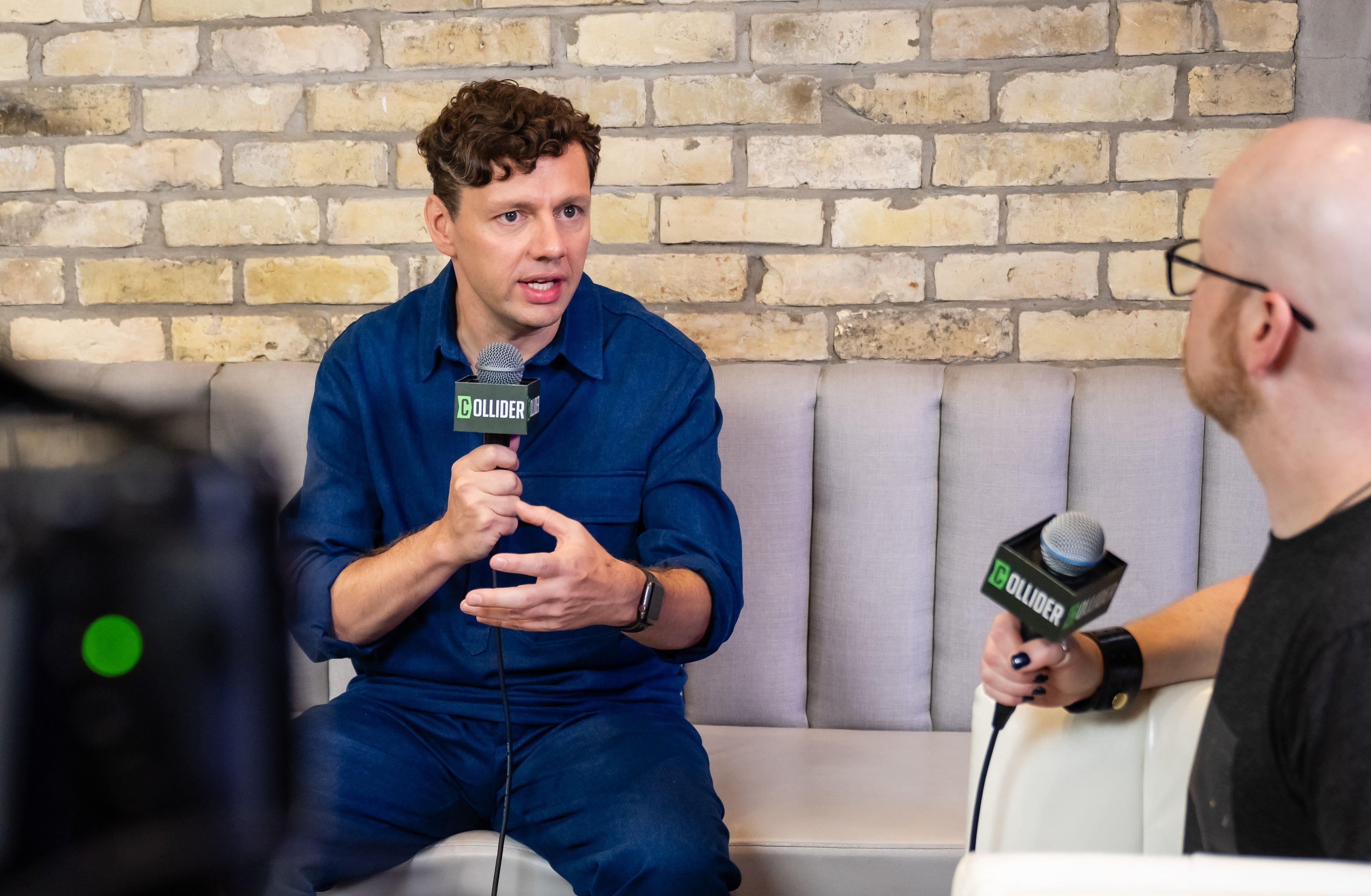 That's what I mean. One of the things I really loved about it is that it's open to the audience to decide what Jonathan is doing in this scene because you can play it like the character is having what you just said, you can play it like, "Is he getting a glimpse of the future and reacting to it?"
FRIEDEL: Yeah. But I don't think that he realized that. Even if you hear his original voice in the Nuremberg trial—you can hear it on YouTube—it's a high voice, and it's a voice not of a perpetrator, it's a voice of a bureaucrat and a prisoner. And he tells every detail in this trial, but he never said, "It's my guilt." He said, "I have to do it. It was my work," and this is horrible.
The Zone of Interest premiered at the 2023 Toronto Film Festival. Special thanks to MARBL Restaurant for hosting Drumpe as well as the additional sponsors Sommsation, a top wine experience brand and online shop and Molson Coors' Blue Moon Belgian White as the beer of choice at the Cinema Center. Additionally, Moët Hennessy featuring Belvedere Vodka featured cocktails and Tres Generaciones Tequila.