From award-winning director, Erica Tremblay, Fancy Dance tells the story of the bond between young Roki, played by Isabel Deroy-Olson in her feature debut, and her hustler aunt, Jax (Lily Gladstone). The film made its world premiere to a sold-out Eccles theater at this year's Sundance Film Festival with the intent to spread awareness of the epidemic of Missing and Murdered Indigenous Women, but also as a "love letter" to the often-marginalized heroes of these Native American communities.
Fancy Dance highlights these issues by taking place shortly before a mother-daughter Pow Wow Dance, or a Fancy Dance, when Roki's mother (Hauli Sioux Gray) goes missing from the Seneca-Cayuga Reservation. Roki has been taken into the care of her mother's sister, Jax, a queer, Indigenous Woman making ends meet by any means necessary, which often includes the two of them performing heists together. Despite law enforcement's lack of concern in finding their missing mother/sister, CPS is now looking to displace Roki with her estranged grandfather (Shea Whigham). Taking matters into their own hands, Jax retrieves Roki from her grandparents and the two set out on a journey together.
Following the Fancy Dance screening, Gladstone, Tremblay, and Deroy-Olson visited the Drumpe Studio in Park City. While speaking with Drumpe's Steve Weintraub, the three of them explain that the film was made for their communities as a way to spread healing and celebrate their heroes, and how important it was to see the film premiering to a sold-out crowd. Gladstone and Deroy-Olson discuss their instant rapport, the significance of maintaining levity and humor, and which scene was the most daunting. They also share alarming facts about the Cayuga language, as well as what a crucial role the traditional language and dances played in making the film. For more on Fancy Dance, you can watch the interview in the player above, or read the full transcript below.
Drumpe: I just want to really start with, congratulations on being part of Sundance and making a film. I thought it turned out great, and I think it tells such an important story, but hardly anyone watching this interview will have seen the movie yet. So how have you been describing it to friends and family?
ERICA TREMBLAY: Well, Fancy Dance follows an Indigenous, queer woman whose sister has just recently gone missing, and she's left as the unlikely caretaker to her 13-year-old niece. The film follows the two of them as their relationship ebbs and flows as they are grappling with the reality that their sister/mother is missing.
We wrote this film as a love letter to our Indigenous communities, and we made the film hoping to share the love and the connection of human beings, and how that gets them through even some of the darkest of times.
One of the reasons I'm so happy this film was made is that there's such a lack of coverage on missing Native Americans. It's very frustrating. Can you talk a little bit about that aspect, if you don't mind?
TREMBLAY: Yeah, I think anyone that you meet in Indian Country is touched by this epidemic in some way or another. And it's an epidemic that's hundreds of years in the making, since contact, and since colonization. Native communities have been impacted in all different ways, but one that we're still facing in such high numbers today is missing and murdered Indigenous women and children and relatives.
For us, we didn't want to sit too much in the trauma and too much in the pain, but we wanted to ground the story in that topic and in these themes. As a way, not to really educate because I made the film for my community, but hopefully, people will watch the film and understand a little more about how the genocide of Native Americans is ongoing and that it is still present, and it is still happening every day, and that there are heroic individuals that are working inside of communities, providing safety for Native People. In this film, two of those heroic people are Jax and Roki.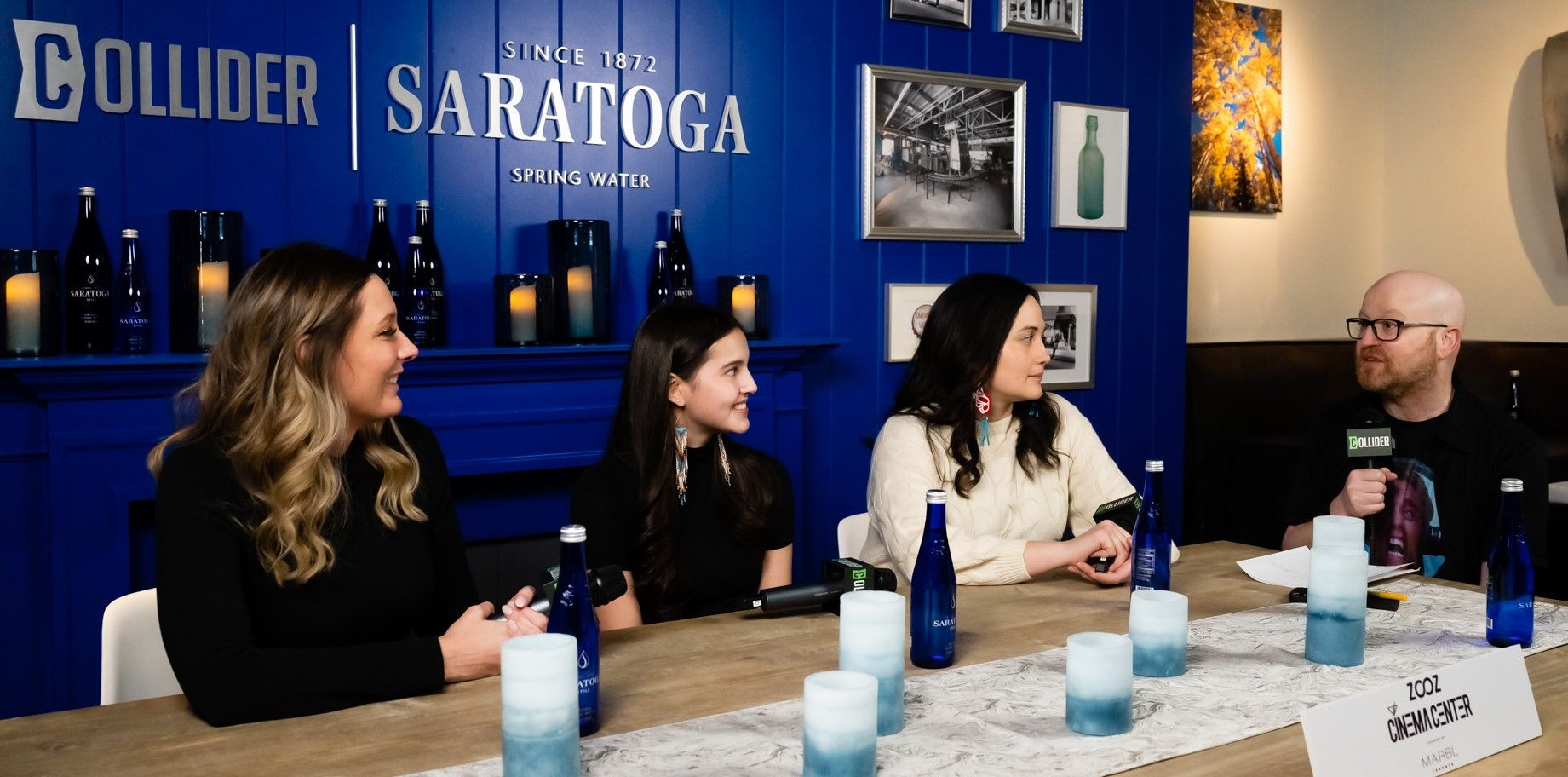 You guys are great together onscreen, and I'm curious if you could talk a little bit about collaborating and working together, and being part of a film like this, which tells such an important story?
ISABEL DEROY-OLSON: Working with Lily is amazing and, I've said this so many times, but instantly as soon as we met it just clicked, it just worked, and getting to tell this story with Lily is such a blessing. It's really, really important and it's real, and I think that getting those stories out there is really important. The fact that we get to do it together is really cool.
LILY GLADSTONE: Isabel is just such a tremendous person and talent. Young young folks have a lot to say, but not many are as eloquent as Isabel is. She's got some incredible work aside from this. I mean, just look her up on YouTube, [there are] a lot of youth reporting about Indigenous issues in Canada. It's a very smart kid here.
So it was wonderful to have somebody that was a partner in this. It's like she's become, in many ways, like a niece and we did have a great rapport right away. Erica had impeccable taste in casting because I've been attached to this since it was an idea, but the heart of it was always, "Who's our Roki?" So, it was incredible. [We] didn't have a read, didn't have anything together before. We were in the studio learning Fancy Dance with Hauli [Sioux Gray], who played my missing sister, her missing mother, she was also a dance coordinator. Yeah, I think trusting this brilliant, thoughtful young woman allowed the work to be what it is. Kind of what Erica was saying, we didn't want to live in the trauma. We didn't want to point to the trauma because people can get addicted to that in a way that they stop actually caring. They care about caring, but they don't care about what it is they're actually caring about. It's an odd cycle that we get in.
Isabel and I also come from – we're not from the same tribal nations, but we come from really similar worldview and similar cultural practice, and we kind of spoke about this. The way that we do it, this ceremony that we both take part of, it's important that you maintain a levity and a humor, and a lightness when you're in the process of healing. And really, what we're doing by telling these stories is we're doing healing work because communities who are living this every day, our families who are living this every day, they know how hard it is. Like Erica said, we made it for our communities. So it's, how are we surviving in this, who are the people that are carrying us through this, and a lot of times it's our it's our women, it's our queer relatives, it's the community builders that are really marginalized that are holding it together at the center.
So knowing that Isabel had this depth in this understanding as a young actor allowed us both to lean into the levity and the joy of it, which is what makes this film work really, that's what makes our relationship work. I mean, if you look at all of the footage when we're not doing Jax and Roki, it's like we're both crossing our eyes at the frame and being stupid, but it was really fun.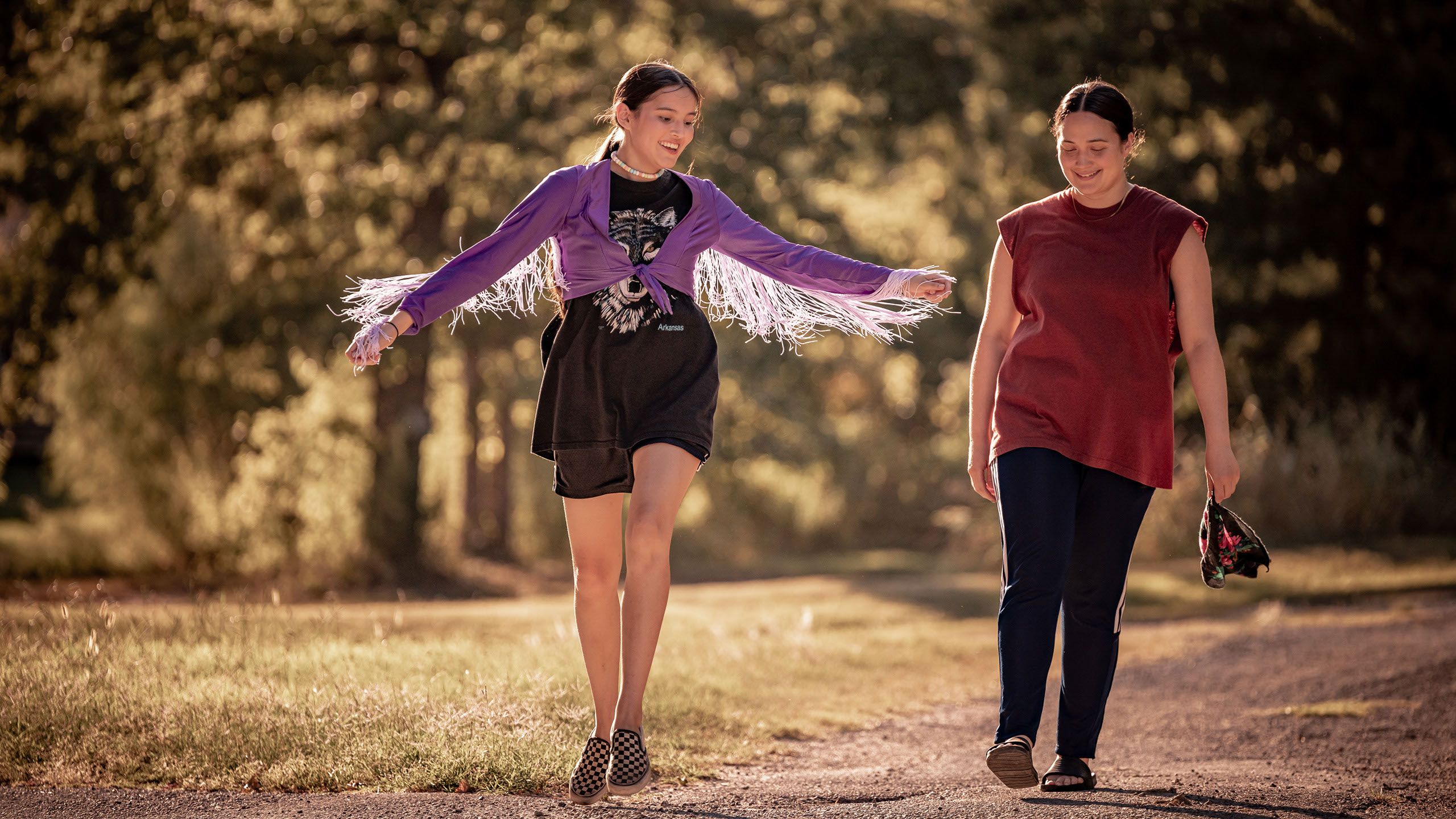 I'm so curious if you were more nervous about some of the dialogue and drama scenes, or the dancing.
DEROY-OLSON: I mean, the Cayuga, I just really wanted to get it right. I really, really cared about that, and I do come from a dance background.
GLADSTONE: We both do, we were both ballerinas when we were kids. You're still doing it.
DEROY-OLSON: I'm a studio dancer and so I had that coming into it, and I've done some Pow Wow in the past, but getting to actually really focus on it for this role was really, really fun. I'm still doing Pow Wow, it helped me find something that I just truly, truly love, and I really realized that that was there for me to do. I loved getting to dance it, it was so fun, but I was definitely very nervous for the Cayuga because I really, really cared about it.
GLADSTONE: Yeah, that's a big responsibility, bringing that into this world in this way where this child is growing up fluent in the language. That's something that's really revolutionary, and people fought hard for [it]. Erica was saying [there are] maybe 20 Cayuga first-language speakers left.
TREMBLAY: Yeah, less than 20 after the pandemic, less than 20 first-language Cayuga speakers left. We really wanted to imagine a world where young people spoke the language fluently. It was a challenge, but we knew how important it was. So, I've been through language immersion, but we brought down a speaker, Kisa Parker, who worked with them ahead of time, and we've already been getting reviews from Cayuga speakers that they did an amazing job speaking Cayuga. So that's the only reviews we care about around here.
I wanted to make sure people realize that it's a language that's not spoken by a lot of people. Was that one of the motivations? Because you had a choice of what to have in this movie. Why was it important for Cayuga to be part of this?
TREMBLAY: Yeah, the seed for this film came when I was in language immersion. I was doing a three-year-long language immersion program in Cayuga, which is my ancestral language, and when we were learning family words, I learned the word for mother was "knohá:ˀah," and the word for "auntie" is "kno:há:ˀah," which directly translates to "small mother," your other mother.
I grew up in my community, I've been a Cayuga person since I was born, but as a person who was 35 years old, it opened my mind up to a completely different side of my culture through the language. And I was seeing the matrimonial ties, the matriarchy, I was seeing the worldview through the sentence structure, through the grammar, and that was what sparked the film, was this idea that your aunt is actually your other mother, is your mother, and is as important in raising you. So, as soon as we started writing the script, we knew that since the cornerstone of the film was language that it had to be present.
I love that they speak it when they're alone together, and they only revert to English when they have to. Then when they are trying to be intimate, when other people are around, they can tell secrets, they can do their heists, they can get away with things in the language. So we had a lot of fun using that for not only plot reasons, but just their character and their connection.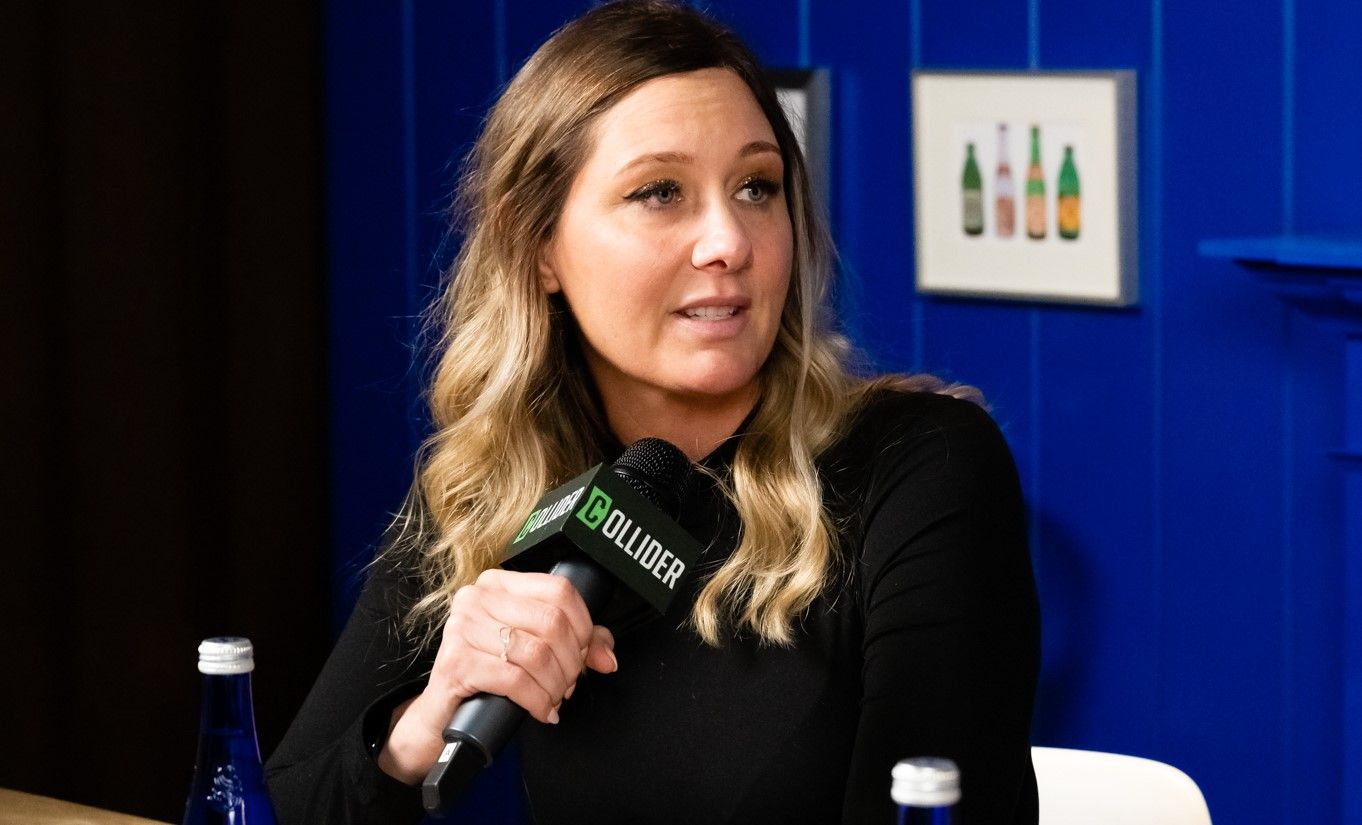 You made this with a finite budget and a limited amount of time. When you were making it, what was the day of the shoot that you circled on the calendar in terms of, "How am I'm going to pull this off? How are we going to get our shots?" You know what I mean?
GLADSTONE: The Pow Wow
DEROY-OLSON: The Pow Wow scene [laughing].
TREMBLAY: The Pow Wow.
DEROY-OLSON: The night shoot. Yeah, that was definitely… we were all kind of waiting for that to happen. That was September 2, I think.
GLADSTONE: Oh yeah, we still remember the day.
Was it just recently, this past September?
GLADSTONE: Yeah, this past September 2.
Oh wow, so when did you wrap?
TREMBLAY: September 26.
Wow, that is fast to get this to Sundance.
TREMBLAY: I slept last night after the premiere. I was like, "I can finally sleep because the movies played!" It was a really fast turnaround. We had sent it into Sundance and we were hoping, and the film had gone through a lot of the labs. When we got the call for yes, I was like, "Oh my goodness. We have to finish the movie now."
Sundance saw something in what we sent, and it was a real… We were urgently getting it finished, and I was so, so glad to get to share it with everyone last night at Eccles.
Also, that's such an amazing theater. I wasn't there for the premiere, but for the two of you, what was it like being in that audience? I'm assuming you watched a thousand people all taking in what you spent so much time and energy doing.
GLADSTONE: It's my second premiere at Eccles, and this one particularly felt like – I was stoked for when Certain Women played there – I was elated, elated that Fancy Dance was scheduled for Eccles. And to know that it was sold out because when you're making films like this, you're so often told, "This is a great script, but we can't make it. This is a great project, great idea, keep going, but it's not for us."
But then you see the Eccles sells out, and there's that many people who are, they're embracing it, like hanging on every breath, like all the gasps with the gun moment. The suspense that, when you're shooting something in an unsegmented way, you hope is there but does translate, and then hearing how suspenseful it was for the audience and feeling that. It's just… It's like, [here are] thousands of people who say, "Yeah, we care about this. We're here for this." So it was just, you know? I guess a very just thing that it played there and that it played to a sold-out audience there.
DEROY-OLSON: Yeah [laughs].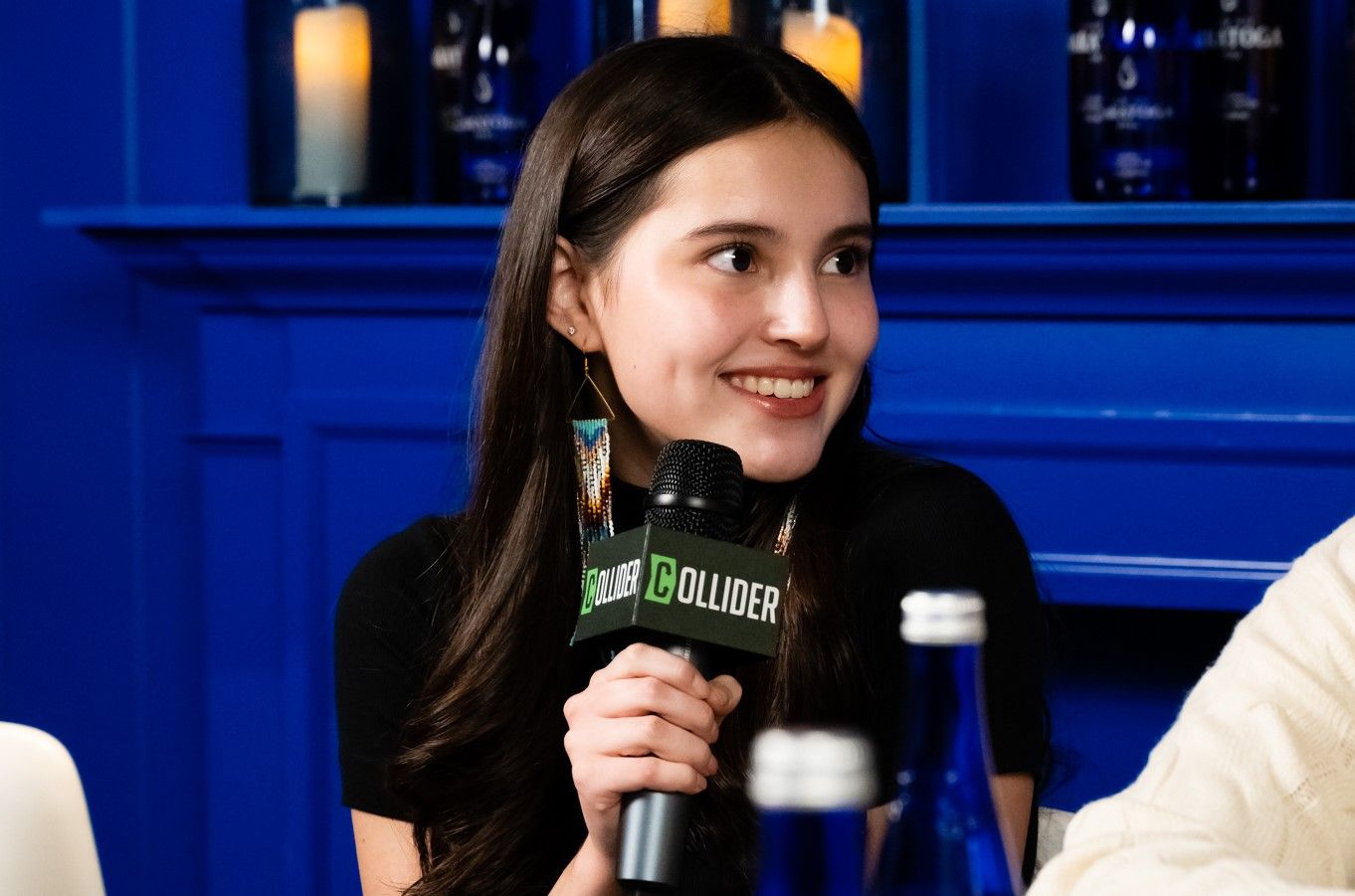 Is there anything you wanted to add?
DEROY-OLSON: The energy in the audience was amazing. Like the gasps were my favorite thing ever, they were so amazing, they were great. Lily and I were sitting next to each other and I was only paying attention to our row like it was just us watching the thing that we made, and yeah, it was just really, really incredible. It's my first feature so getting to premiere there was so cool.
Special thanks to our 2023 partners at Sundance including presenting partner Saratoga Spring Water and supporting partners Marbl Toronto, EMFACE, Sommsation, Hendrick's Gin, Stella Artois, mou, and the all-electric vehicle, Fisker Ocean.